I woke up on Thursday morning last week, to the most wonderful surprise an author could ever expect to get: Memoirs of a Guardian Angel
was trending
in the South African Kobo store: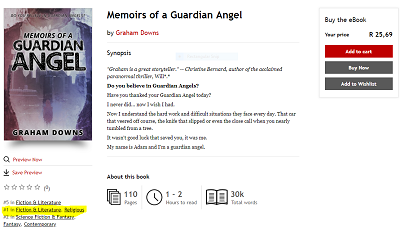 Yip, I don't know who started it, but the book was being shared all over the place!
In case you can't read it so well, when I took that screenshot, the book was #5 overall in Fiction and Literature, #1 in Religious Fiction and Literature, and #2 in Contemporary Science Fiction and Fantasy.
I honestly can't express my gratitude enough, to all of you who made this possible. I truly have the most amazing readers in the world.
If you click the screenshot above, you'll be sent to the book's page on Kobo, where you can take a look at the current rank. As you'll see, it
has
dipped a bit since last Thursday, but it's still doing admirably well.