This is truly a Hallmark Channel drama. To be honest, it was a bit different than I expected too; I thought there'd be at least some paranormal stuff going on. But no, it's just a straight, run-of-the-mill mystery drama).
Not that that's a bad thing. I mean, I enjoyed it. It was a good story. There were only a couple of things that gave me pause.
In the first place, the title didn't really make sense to me (other than the fact that every time I picked up the book to read, the song started playing in my head). There's only one reference to the song in the whole book, and it's very much an aside. I thought it could've been emphasised a bit more.
Secondly, the ending. About two-thirds of the way in, I thought I had it figured out. I hoped I was wrong, though, because I thought if I was right, it would be pretty weak. Unfortunately, I was right, and it just didn't make sense. I just didn't buy the culprit being who they turned out to be, based on what I'd learnt about them and their character for the rest of the book. Unless they're schizophrenic or something. But the book gave no indication that they were.
There were other plot twists, though, which I didn't see coming, and which I really enjoyed.
If you like an old-fashioned mystery-drama, with a feel-good emphasis on the nuclear family, I still think this would be a good book for you.
About the Book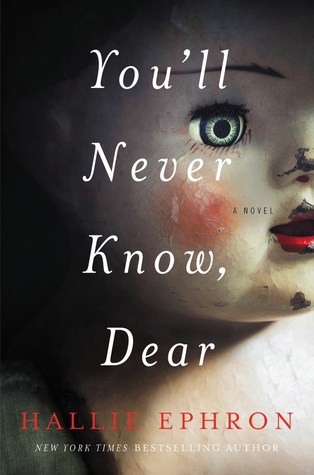 An addictive novel of psychological suspense from the award-winning author of Night Night, Sleep Tight, about three generations of women haunted by a little girl's disappearance, and the porcelain doll that may hold the key to the truth . . .
Seven-year-old Lissie Woodham and her four-year-old sister Janey were playing with their porcelain dolls in the front yard when an adorable puppy scampered by. Eager to pet the pretty dog, Lissie chased after the pup as it ran down the street. When she returned to the yard, Janey's precious doll was gone . . . and so was Janey.
Forty years after Janey went missing, Lis—now a mother with a college-age daughter of her own—still blames herself for what happened. Every year on the anniversary of her sister's disappearance, their mother, Miss Sorrel, places a classified ad in the local paper with a picture of the toy Janey had with her that day—a one-of-a-kind porcelain doll—offering a generous cash reward for its return. For years, there's been no response. But this year, the doll came home.
It is the first clue in a decades-old mystery that is about to turn into something far more sinister—endangering Lis and the lives of her mother and daughter as well. Someone knows the truth about what happened all those years ago, and is desperate to keep it hidden.
Click the cover to find out where you can get a copy.