Those who know me, know that I'm a huge fan of the Unlimited Reading platform,
Scribd
. The thought of being able to read as many books as I like for only $8.99 is just too good to pass up!
Up to now, though, I've been using it exclusively for ebooks, but just recently, I've discovered a really cool part of their platform: Magazines.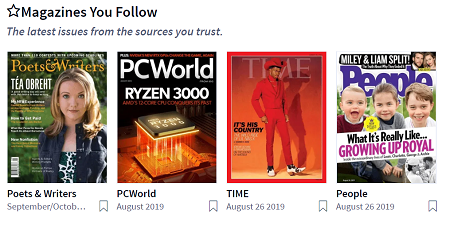 I must be honest with you: it's been a long time since I've read a magazine. When I was still living with my parents (wow, that was a long time ago, now), I remember occasionally buying copies of PC World or Time when I saw them in the shops. Of course, they were imports here in South Africa, so they were really expensive.
Scribd has contracts with lots of magazines, so you can "follow" them, and they deliver the latest issue, straight into your app. Click on an issue, and you're presented with a list of articles from that issue, and you can click on one to read it.
Tres cool, no?
Do you still read magazines? If so, do you still buy paper-based ones, or have you switched to digital? Feel free to let me know in the comments below.
Oh and incidentally, if you'd like 60 free days to try out Scribd (instead of the usual 30 that most people get), click
here
to sign up.
And once you've completed the sign-up process, search for my books. They're all there.