When I was a kid, every time we went to our local Pick 'n Pay, I'd insist on walking down the toy aisle. One of the things they always had in the toy aisle was a pile full of colouring books. Some of them were themed to whatever the latest craze was at the time (Masters of the Universe, Teenage Mutant Ninja Turtles, Spiderman, Batman, etc), and some were just themed to a particular thing (Animals, Cars, whatever).
Often, I'd nag my parents to buy me one, and then I'd take it home and spend hours on the floor with it and my box of crayons.
The books were really cheap, printed on recycled toilet paper or some such, ugly brown paper with tore if you pressed too hard, and where the colour bled through.
Do kids still do this?
If you have (or know) small children who like colouring in, take a look at these gorgeous colouring books my wife and I put together a few years ago.
Each one's filled with 64 themed colouring pages, printed on premium, high-grade paper (not that recycled toilet paper you get at the grocery shop).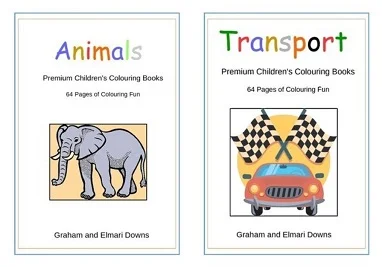 Click on the image above to see all the places where you can buy the books. You can get them literally anywhere in the world, from the United States, to the UK, to South Africa, and others.
Depending on where you are in the world, I can't promise you'll have them by Christmas, but the sooner you order, the better your chances.