For the longest time, I've been thinking that
Stingers
, my Young Adult story about bullying in High School, could do with a new cover.
You see, because the story was originally published in
I am not Frazzle!
, I didn't think it would sell much, so when I published it as a standalone in June 2014, I decided to go the cover myself. I'm artistically challenged, though, so even I wasn't particularly happy with the result.
I knew I wanted a picture of a boy in a school uniform on the cover, but after much searching, all I could come up with was this one, from
Wikimedia Commons
:
All well and good, but there's a logo on his shirt. I didn't like the idea of the school in that photo possibly being identified, and my image editing skills aren't nearly good enough to take out the logo. So I decided to cover it with something.
I opened up good old LibreOffice Impress and, using that image, came up with this cover:
You see, I thought I'd do the right thing by advertising the anthology--I still wasn't convinced I'd sell many (if any) copies of it as a standalone. Or, if I did, my intention was more to drive people to the original anthology and help out the charity.
But 2018 is the second year in a row that the book's been chosen as a High School set work, and I'm getting super excited that Stingers is actually a viable publication all by itself.
It's about time that I de-coupled it somewhat from I am not Frazzle! But what to do? I'm still not particularly artistic, and I've also lost the original Impress presentation I did. Plus, I'm at a loss for ideas.
So I reworked my original concept, but tweaked the font a bit in the second version, and changed the badge to refer to the fact that the book's now a set work: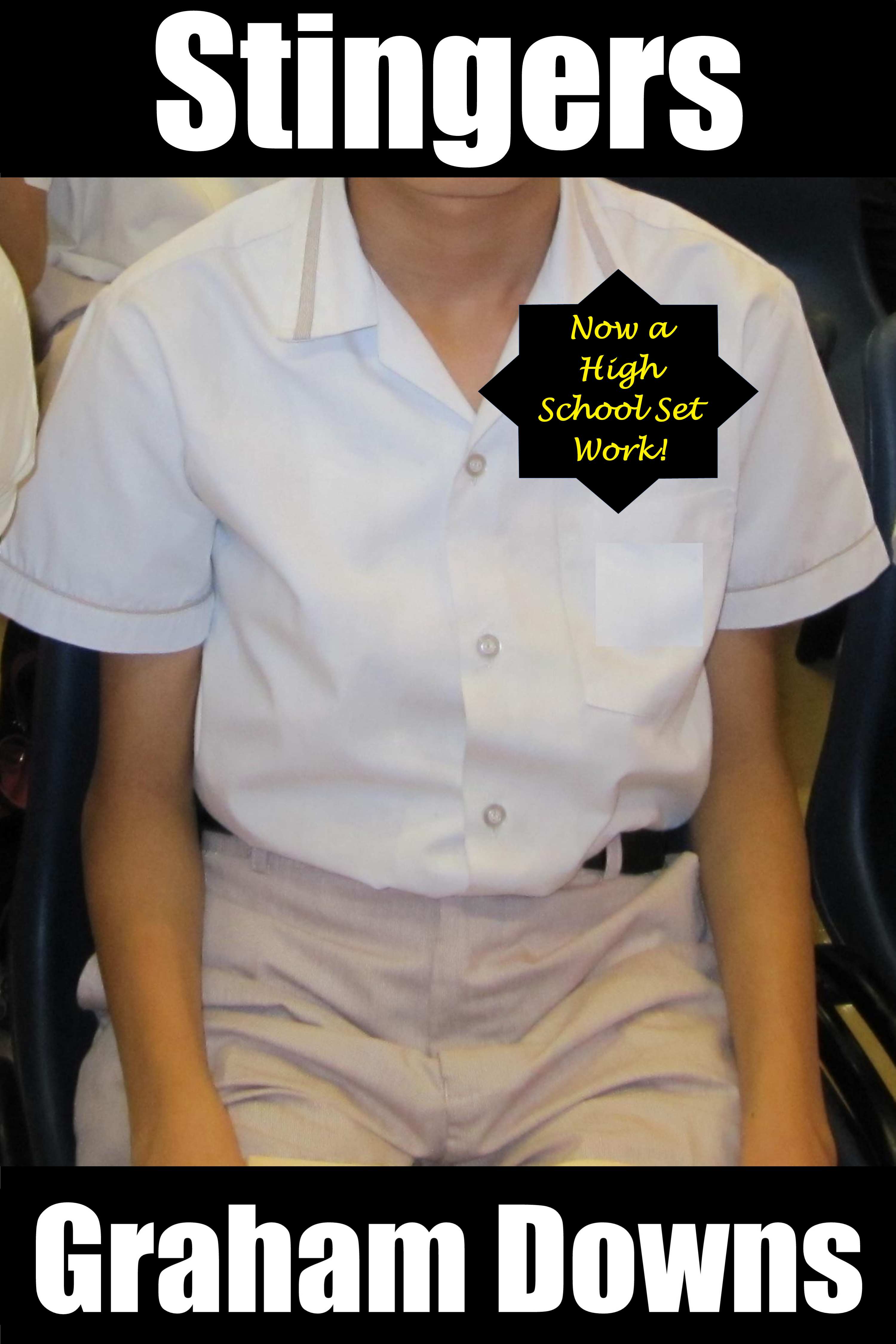 Still not ideal, I'm sure you'll agree.
Any artists out there that want to take a crack at a "proper" cover? Preferably a true fan of the story, who's willing to do it for free. ;)
Seriously, changing a cover is a
lot
of work! The hardest part, I think, was updating Goodreads. I went and updated the e-book manuscript at
Kobo
,
Smashwords
,
Google Play
, and
Amazon
, but Goodreads doesn't allow non-librarians (I lost my librarian status some time ago--long story) to change the images on books. So I had to make new editions for all of them.
Originally, I had an edition on Goodreads for each version of the book, since each one's got a separate ISBN. Previously, I'd put "Smashwords |Edition", "Google Play Edition", etc, in the Edition field of each one of Goodreads. Apparently, that's not allowed, because I saw that a librarian had removed all those texts.
Can you believe I'm not allowed to label a book on Goodreads as "Smashwords Edition", even though that exact phrase appears in the front matter of the book on Smashwords?! Must be something to do with the fact that the site's now owned by Amazon.
But I digress. The point is that this made it even harder for me to identify which edition of the book I was editing on Goodreads.

It's all done now though, and there are two entries for each edition on Goodreads: one with the old cover, and one with the new.
I only updated the e-book versions, though. Updating the print edition's going to cost me money. Maybe one day.

The joys of indie authorship, hey?